Vietnamese Crab noodlle- incredibly delicious bowl of crab noodle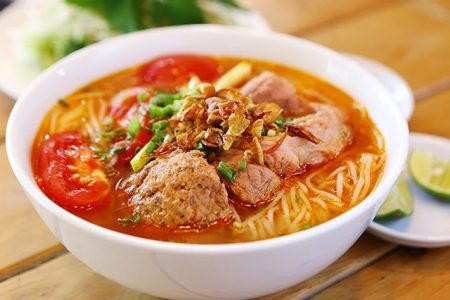 Vietnam is an agricultural country with the rice is the main product to export. If you have chance to enjoy a meal with Vietnamese family, you can see that rice is an essential part. But nowaday, when the living standard is getting higher and the developing speech is faster, it requires some dishes more convenient for the life. Noodle is an example. Not only because of its convenience, but also it is suitable for the Asian people's taste. The evidence for this is the more requirement of people are, the more kind of noodle foods are created. Vietnamese crab noodles is one of them. Let's me call it by a sweet Vietnamese name: "Bún riêu cua". To get more information, you can click:  
Indochina travel Vietnam
When I was a little girl, I lived with my grandmother. So in my mind, the childhood was days running on the fields after harvesting rice with my friends, flying kite and then coming back to taste a bowl of Bun Rieu that was cooked by my dear grandmother. Until now, when I have to move in Hanoi for working, this taste is still in my mind clearly. Could it was say that Bun Rieu as an essential part in my memories until so far
What's so special about "Bun Rieu" that can attract a large number of Vietnamese locals that much? First of all, Bún Riêu Cua is a Vietnamese rice noodle soup cooked with fresh minced crab. As you know that, crab is good for the health, especially for kid and sick people. As other kinds of noodles, the most important factor to make the sweet taste for the soup is stock. The stock is usually made from pork or chicken bones, and then the fresh crab meat was used to make it sweeter. Tomatoes, bean sprouts and sometimes pork blood are added into the soup. Then the stock is seasoned with fermented shrimp paste. It is eaten with a lot of fresh vegetables and Vietnamese herbs. the jayavarman
Actually I wasn't fond of noodles previously. But until I had chance to try Bun Rieu made by grandmother, I would say that I felt in love immediately with all flavor and style of its own. I bet you also have the same feeling when try Bun Rieu in the first time. If you're in Hanoi, you can try the Vietnamese crab noodles by some local laddies living in the Old Quarter or you can make it at home for your family when you want to change into a new dish. The only thing you have to do is go to market, choose all of fresh ingredients. In Vietnam, you would see vendors in the early morning pounding fresh paddy crabs in the markets. For crab meat, you can bring it back to your home and clean it or you can ask the sellers preparing for you.
As I called above, the Vietnamese crab noodles has the Vietnamese name is "Bún Riêu". Did you know why the soup is called Bún Riêu? Riêu is like sea foam in Vietnamese. If the soup is done correctly, the crab/egg mixture resembles sea foam as it floats on the top of the pot. It's definitely interesting, isn't? A fun story in Vietnamese every girls often say that: in the first day a girl comes to boyfriend's house, if she can cook Vietnamese crab noodles with the sea foam is floats on the top of the pot, she already get 10 points from her boyfriend's mother. Just only a fun story but it means that Bun Rieu have become as a part of Vietnamese cuisine.
See more:
Indulge Yourself In The Beauty of Pù Luông, Việtnam's Natural Hidden Gem
Experience make sauce fish in Mui Ne
What to do for a day trip in Phu Quoc
Asia Travel Lover