Vietnam itinerary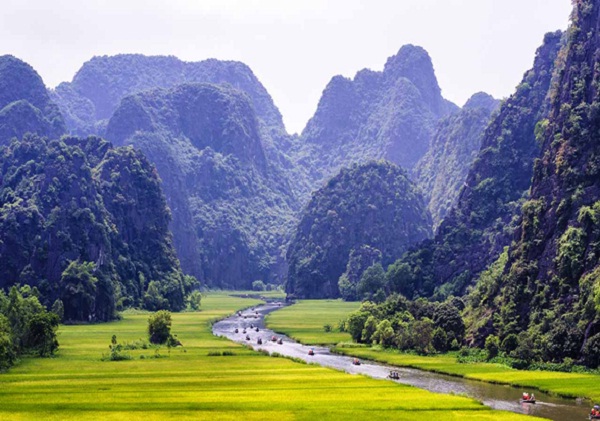 Be on board of a traditional junk boat to sail through limestone karsts and promenade on the streets of imperial capitals. From vigorous Hanoi, the natural charm of Halong Bay, the imperial capital atmosphere of Hue, and the charms of Hoi An to the bustling day life of Saigon, experience the real Vietnam in a few day trip. Joining in this trip, you will have a chance to see should-not-miss highlights of Vietnam as well as have plenty of time to do your own thing. Travel Indochina Vietnam
Once coming to Vietnam, you should not miss a chance to drive to Bai Chay harbour, the jumping off spot for Halong Bay to see thousands of islands with complicated cave systems raise significantly from the sea level. Be aboard of the junk boat to sail through limestone karst mountains and make a stop at some of the islands and caves. In the evening, enjoy a seafood dinner, then choose to sip a drink on deck watching the stars.
On the next day, have breakfast on board before taking in a morning sail back to the port. On your own vehicle drive back to Hanoi in about 4 hours for a little more time to enjoy the city before boarding a 14 hour overnight south bound train. Travel to Vietnam
Arrive early in Hue which was used to be the imperial capital of Vietnam. Begin your trip by paying a visit to the Tien Mu Pagoda and the tomb of one of the former emperors of Vietnam. And then make a decision of where to eat, a vegetarian lunch at a local monastery is highly recommended. During your free time, take part in an amazing tour of the area on back of motorbike. Some local excellent Hue specialties including banh khoai (Hue savory pancakes), and banh bot loc boc tom thit (thin rice paper full filled with meat and shrimp) are should not miss while you are in the city. Wash it all down with a Hue beer.
Before heading towards Hoi An in the late morning, start the day touring the lively remains of the Imperial Citadel. In permitting weather, before arriving to Hoi An in the afternoon, go across the Hai Van Pass to admire these splendid views in all directions. Spend some nights here to have plenty of time to discover all this lively town has to offer.
It takes you a few full days to explore all ancient town Hoi An has to offer. Be amazed by the long term culture, relax on beautiful beaches or purchase clothes tailor-made in one of many fashion shops around town. The Oodles of Noodles, a G Adventures-supported project is an ideal place to enjoy a noodle making demonstration and lunch.
Take in a 1 hour flight to travel from Da Nang to Ho Chi Minh City which is used to be the capital of South Vietnam and the commercial center of this country. Start discovering the petit alleys and crowded streets keeping an eye out for laquerware shops and exquisite local food stalls.
To enjoy your free time in the city, paying a visit to the Thien Hau and Giac Vien pagodas and walk through the immense Ben Thanh Market is well worth. It is advisable to visit the Reunification Palace (the residence of South Vietnam presidents before 1975), Cholon – the Chinese quarter of the city, and the War Remnants Museum as well as join in the Cu Chi Tunnels Guided Tour.
Travel lovers.
Read more: