Traveling Thai Binh with some impressive destinations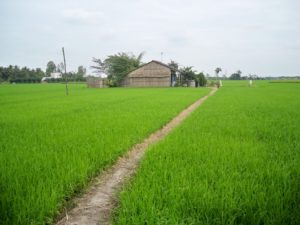 Thai Binh is a small province which is next to Red river. Because this destination hasn't developed strongly in tourism as some different arrivals, tourists will have the strange and interesting experience without being invited with insistence. The holiday to Thai Binh is like a journey to discover immense rice field and the peaceful landscapes. This will be a good chance for you to experience the life in countryside and find the quietness in soul. The followings are some impressive destinations for you: Holidays Indochina
Keo pagoda
Keo pagoda, the national historical and cultural relic, consists of 2 structures. The first one is the place of worship of Buddha and the second one is the representative of local people's admiration to great monk Duong Khong Lo who had the biggest credit in establishing Keo pagoda. 2 structures are connected with each other by a close space which makes the warm and solemn atmosphere.
Keo pagoda includes 21 buildings in 58,000 square meters. Moreover, this is also the place which preserves many valuable Buddha statues from  to  century.
Moreover, 2 lobbies in the East and the West, which connect Ho pagoda to Ring tower seem endless. They are considered as a solid barrier of Keo pagoda. During the rise and fall of the nation, Keo pagoda has remained unchanged the unique and antique architecture.
Every year, in Keo pagoda, there are 2 festivals called Spring and Autumn festival. In each occasions, there are a lot of interesting games such as rice-cooking competition, duck-holding competition and many other activities. Besides, local people also organize the parade and picking anniversary. cruise on Mekong river
With its valuable architecture of structure, Keo pagoda is considered as one of the most beautiful pagodas in Vietnam. Therefore, this place has become an attractive destination for travelers.
Tran temple complex
Tran temple complex in Thai Binh is a complex of relics which consists of the temples and tombs of kings and mandarins under Tran dynasty. This complex is ranked as one of the most important national relics in Vietnam.
Being 5175 square meters, Tran temple complex was established carefully and precisely in the center of Tien Duc commune. This is a great complex which was set up with the combination of traditional architecture and village's structure.
The endless beautiful rice field
Thai Binh province is one of the places which have the highest rice product in Vietnam. The large rice fields here look like a wonderful work of art which is made by the gentle and hard-working farmers. From far distance, it seems a lively and attractive picture. If having chance to contemplate the beauty of rice field in Thai Binh, you will feel your soul full of love and happiness.
In the aurora in rice field, the fog hasn't melted completely and the sun has being risen. This is one of the best times for you to see the beauty here. Standing on the bank, you can smell the special perfume of rice and soil. The fresh atmosphere and peaceful space will make you relaxed and all the stress in your daily life will be thrown away immediately. Wandering in the rice field, you can feel that you are on the true heaven.
Furthermore, if you want to contemplate the ripped rice fields as the yellow carpet, you should visit Thai Binh province in June or October.
The field of flower reform
From October to December, when the weather becomes cooler, nhung bong hoa cai start blooming brilliantly in the fields of Hong Ly commune of Thai Binh province. People cultivate this flower for picking the seed and making oil rather than for tourism. Therefore, travelers can visit here without paying any fees. Many tourists come here to contemplate the unique beauty of this kind of flower and they are greeted by the upright and gentle local people. Moreover, if visitors have any questions, local people are very pleasant to answer. Besides seeing the beauty of flower reform, tourists also have chance to understand how farmers cultivate and water for them. Coming here, you will have chance to dip into the wonderful atmosphere of yellow flowers.
 Not many tourists choose this kind of tourism, but anyone who has ever come here can have memorable experience. This will be one of the most meaningful journey in your life. Only by peaceful and beautiful landscapes of ancient pagodas and temples, the field of rice and flower reform, Thai Binh can make your soul become lighter and more comfortable.
See more:
Asia Travel Lover