Traveling Sa Pa in December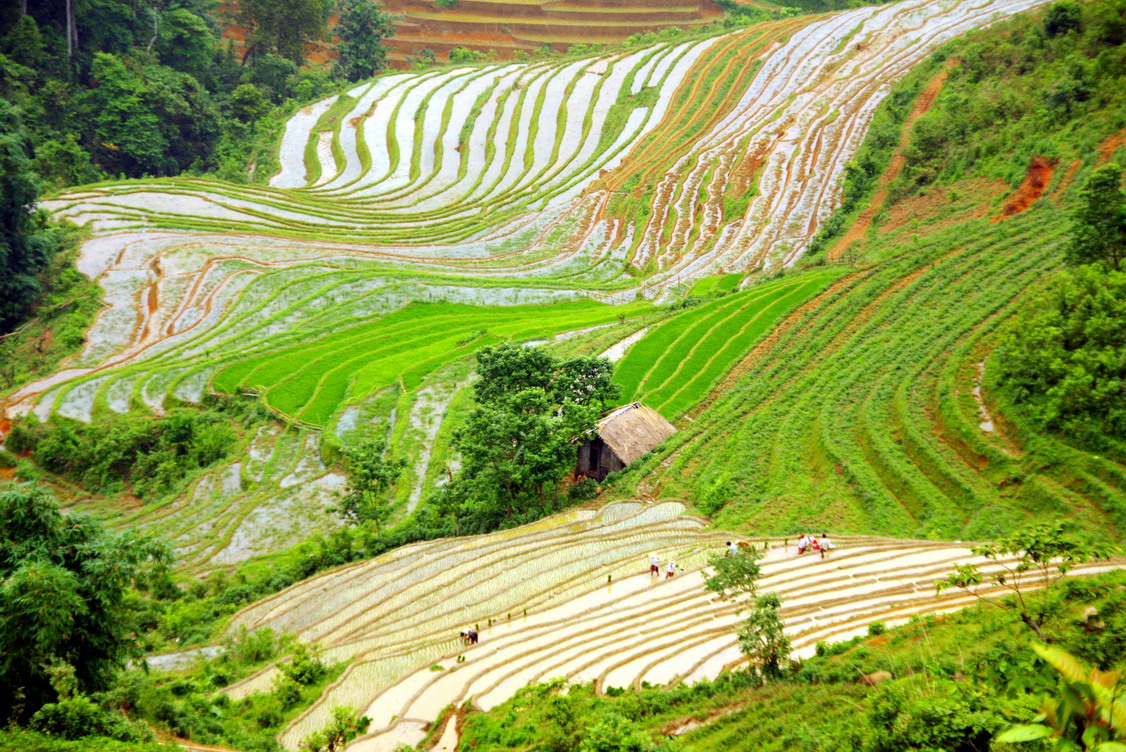 Vietnam, a beautiful country in the Indochinese Peninsula, attracts many tourists by its beauties of landscapes, historical relics and unique culture. Sapa is one of the most popular destinations in this nation. This place contains many natural miracles with nice terraces which combine with the green of forests to make a wonderful picture among immense Tay Bac mountains. Tours on Indochina
December is one of the best times to travel Sapa because at that time, the temperature is very cold and the weather is dry. Therefore, you will have chance to experience and take part in many interesting activities here. The followings are some famous destinations you shouldn't miss when traveling Sapa in December.
 Ham Rong mountain in Sapa
Ham Rong mountain is the place where people plant many kinds of flower with many different colors. Especially, this mountain is very famous for precious orchids. Moreover, the higher you climb, the more interesting things you can discover. From the top of Ham Rong mountain, you can see entire landscape of Sapa which is extremely fanciful in the white cloud. You can feel free to image many amazing shapes which are formed by the mountain and frog.
Silver Waterfall
Silver Waterfall is about 12 kilometers far from Sapa town. During the road to this destination, tourists can have chance to contemplate the immense pine forests and the beautiful fields of rose. The beauty of scenery will help travelers to throw away any tiredness on the road. Coming to Silver Waterfall, visitors can see the exciting water foam which is made from the water falling from above.
Ancient Rock
Ancient Rock, whose area is about 8 square kilometers, is located in Muong Hoa valley. This destination was discovered by a French antiquary in 1925. In this area, there are approximately 200 large rocks which are considered as the proofs of Cistercian's appearance. Moreover, these rocks are in many strange shapes such as sidestep, road, letter, human, sun and so on. Many scientists believe that this is a map of ethnic minority which noted the struggles in the past. Coming here, visitors can contemplate the wild and nice landscapes. North Vietnam tours
Ta Phin village
Ta Phin village is about 13 kilometers far from Sapa town. This is the habitat of 2 ethnic minorities: Dao and H'mong. Visiting here, you can have precious opportunity to understand more about the customs, belief and daily activities of these communities. The traditional culture of Dao ethnic minority is staged and showed such as marriage anniversary, Bai Tram dance and so on. Specially, all of these performances are very attractive for travelers. Furthermore, in Ta Phin village, you can choose to buy some traditional dresses which are made of brocade as the presents for your family and friends because this material is very impressive and typical for ethnic people's culture.
Ta Phan village
Ta Phan village in the language of Mong ethnic minority means a big round. This is one of the most beautiful villages in Sa Pa. It consists of many picturesque landscapes which can impress you at the first time. From Ta Phan village, you can move easily to other destinations in Sa Pa such as Lao Chai, Cau May and so on. Besides, local people in this area still maintain many unique customs which are very interesting for you to explore.
Sa Pa in December is really a wonderful destinations for tourists. Coming here, you can have chance to contemplate many beautiful landscapes as well as understand more about many unique customs and belief of the ethnic minorities.
See more:
Asia Travel Lover