How to travel from Hanoi to Hue by bus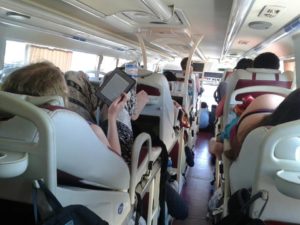 If you are not going on a generous budget, bus should be the best means of transportation to get from Hanoi capital city to Hue City in the Central Vietnam – the city of many historical monuments, spectacular beaches and romantic landscape. To get more information, you can click: Indochina tours and Vietnam
From Hanoi to Hue by bus
It is 679 km from Hanoi to Hue. There are about 22 daily bus schedules by 11 bus companies from 6.00 AM to 7.30 PM including: Hoang Long bus, Hung Thanh bus, TheSinhTourist (Sinh Cafe) bus, Queen Cafe bus, Trekking bus, Camel Travel bus, Nhat Tuan bus, An Phu (Hanoi), TM Brother bus, Minh Map bus, Duc Thinh – Hue bus. Expect the total traveling duration is about 13 -15 hours depending on the bus company you choose. The ticket price ranges from VND 250,000 (USD $811) to VND 280,000 (USD $12.3) with the lowest price offered by TheSinhTourist (Sinh Cafe), Duc Thinh, Nhat Tuan and the highest price offered by Hoang Long bus. The earliest bus leaving Hanoi at 7.00 AM belongs to Hoang Long bus. The latest one leaving Hanoi at 9.30 PM also belongs to this bus operator.
Buses from Hanoi to Hue are divided into 2 types: Open Bus (Queen Cafe, Camel Travel, Hung Thanh) and sleeper bus (Duc Thinh, Nhat Tuan, Hoang Long).
Open Bus
Open buses are the high quality 38-40-seat ones specializing in serving tourists. Open buses do not depart at Hanoi's bus stations but at their offices in the city center. They also offer pick-up service, but only for passengers staying in Hanoi Old Quarter. Moreover, depending on guests' demand and interest, the driver can stop by for them to visit some famous destinations on the journey. vietnam travel packages
What to expect at open bus?
Open buses have all the modern amenities to make all kinds of passengers satisfied: free water, air-condition, DVD, wireless Internet access, pillow and blanket. In addition, clean on-site water closet is especially suitable for those who are traveling with children. Thanks to all the convenience, open bus is the most popular choice among foreign travelers.
Sleeper bus
Unlike open buses, sleeper buses pick up and drop off guests at bus stations. Therefore, the departure time and arrival time are more fixed than those of open buses. Hoang Long and Duc Thinh buses can be found at Nuoc Ngam bus station while Nhat Tuan buses run from Yen Nghia and My Dinh bus station. Hoang Long and Duc Thinh are suitable choices for those who are staying at Hoang Mai, Thanh Xuan and Thanh Tri districts while Nhat Tuan is good for those in Ha Dong, Cau Giay and Tu Liem districts. Note that if you choose Hoang Long bus, you have to pay in advance.
However, if you want to save much traveling time, train and flight are better choices than bus.
By train
Traveling by train from Hanoi to Hue will be an experience to remember. Expect the total traveling time to be 14 hours. There are 7 daily trains between these two destinations. A one-way train ticket costs from VND 197,000 (USD $8.6) to VND 905,000 (USD $40) depending on the types of seats or beds. Livitrans Express and Violette train are luxury tourist trains.
By flight
Flight should be the fastest and the most comfortable way to go from Hanoi to Hue. There are about 6 daily direct flights from the capital city to Hue by Vietnam Airlines and VietJet Air. The flight duration is only 1 hour and 10 minutes. A direct flight will cost from VND 900,000 to 2.5 million (USD $40-110) depending on how long you book ticket in advance and the time of your holiday.
See more:
Something you need to know to visit Ho Chi Minh Mausoleum in Hanoi
Awesome Travel Experience | How To Choose Good Homestay in Sapa
Asia Travel Lover