What time do Ho Chi Minh Mausoleum open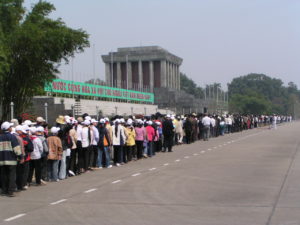 Ho Chi Minh is the most respected man of Vietnamese. He devoted his life for the independence and liberation of Vietnam. Ho Chi Minh Mausoleum is one of the place every generation of Vietnamese wish to visit at least once. Below is useful information to help you prepare for a trip to visit Ho Chi Minh Mausoleum when you travel mekong river cruise vietnam
Brief biography of Ho Chi Minh
Ho Chi Minh whose proper name is Nguyen Sinh Cung was born in 1969 in Nghe An. At the age of 21, Ho Chi Minh, under the name Nguyen Tat Thanh, traveled from his hometown to Saigon and decided to work as a cook in a French ship. During his 30 years abroad, he travelled to not only France but also several other countries in Europe, Asia, Africa and America. He can speak fluently many languages., In 1930, he founded Vietnamese Communist Party in Hong Kong. After years working and activating abroad, he returned to Vietnam to lead the uprising in Vietnam which bring the North of Vietnam independence. He became he first President of Democratic Republic of Vietnam in 1945. In 1969, President Ho Chi Minh passed away due to failing health.
Before he went away, he just wished a simple cremation and his ashes would be scatter in river along Vietnam. However, because of love Vietnamese people spend him, the mausoleum was built from materials collected from all regions of Vietnam to maintain his body.
For more information, you can click: speed boat from ho chi minh to phnom penh
Ho Chi Minh Mausoleum is located at no.19, Ngoc Ha street. You can easily reach there by taxi or bus. It is about 2.5km way from the Old Quarter so you can also walk!
What time do the Mausoleum open?
According to the latest announcement, Ho Chi Minh Mausoleum will open all week round except Monday and Friday. From now to March 31st, tourists can enter the mausoleum in the morning from 8am-11am and in the afternoon from 1:30pm-4:30pm. For Saturday and Sunday, it opens from 8am-11:30pm only. During the dry season starting from April 1st to October 31st, the museum opens to visitors from 7:30am-11am. Moreover, there are flag raising and lowering ceremonies at 6am and 9pm every day at Ba Dinh Square.
There are some notice you should take before visiting Ho Chi Minh Mausoleum. Firstly, visitors are required to wear modestly. That is to say, you are to wear short, hat and sunglasses. In addition, you can be requested to leave your backpack, camera, food and drinks at the entrance. Don't be surprised at hundred-meter long queue along Ba Dinh Square in front of the mausoleum! You will have to move at a really low pace but it is good to have more time enjoying the peaceful atmosphere around.
Foreign tourists need to pay for the entrance ticket of US$0.5 per person. And children under 3 years old are not allowed to enter. It is free of charge for Vietnamese.What time Ho Chi Minh Mausoleum open is a very common question among both foreign tourists and Vietnamese. So these are useful information for your trip to visit Ho Chi Minh Mausoleum.
See more:
Asia Travel Lover