Summer trip in Co Thach beach, an ancient place in Binh Thuan, Vietnam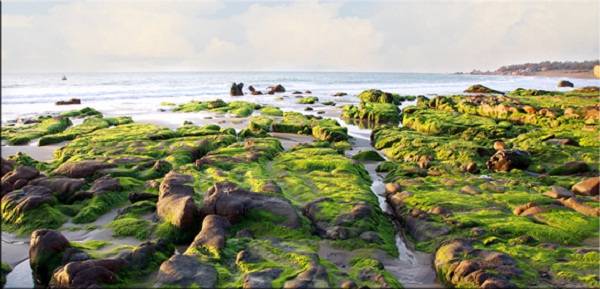 With the strange rock shapes, Co Thach beach is not to be missed destination of people like to take pictures and explore unspoiled nature of Vietnam. Now you can plan your summer trip to this ancient place in Binh Thuan. Tours Indochina Vietnam
Located in Co Thach district, Tuy Phong (Binh Thuan), about 100km from Phan Thiet, 300km from Ho Chi Minh City. Like many beaches "secluded" in Binh Thuan, Co Thach sea of Binh Thuan tourism still kept pristine beauty, blue sea. Co Thach Beach is a complex of stone and sand, there are rocks composed of many small stones, round, flat, colorful, locals are called rock seven colors. This rocky shore formed naturally by the action of tides, currents and sea.
From the megalith sunk in the sea, sand, rocks, water and abrasive together push the debris ashore. Over time hundreds of years have formed a colorful rock today. Seven colored stone rocks typically have many different size shapes, and every day continues to be eroded to colorful sparkles. South Vietnam Travel tours
If traveling from Saigon, always high quality car bed in Eastern bus station, bus travel, Le Hong Phong, Binh Thuan. Car driving straight and stop at the Co Thach beach, with the bus in town Lien Huong, from which motodup to Co Thach. It can go from Mui Ne round off Route 1 in Liangshan. Path length difference between the two directions are not many, and will help you spoiled watching offers stunning sea, sand dunes and vast landscape of the region of Binh Thuan.
Current Co Thach has had several motels for guests to choose. If you want security, quiet, can select Co Thach village resort. In this area there are beaches, restaurants with various types of rooms: double rooms, triple rooms, gym and group rental stays tent. Less money then rented a room at the hostel. For a good and cheap accommodation, you should investigate before going on-line information and book a room.
Visit strolling Market: Market sell seafood, souvenirs, located near the hotel complex. And the locals market is located on the way to the dunes (but the price is not cheap if you are a tourist).
Enjoy seafood: Enjoy seafood barbecue at sea is always interesting culinary experience overnight in Co Thach. By renting a tent and campfire, you can order a cartridge Seafood Grill sunny, oysters, Binh Thuan individual price agreements. Also want to eat delicious seafood, cheap, you should take the time to go away, has restaurants in Ocean Hill area, about 4 km from Co Thach. Or after the visit Co Thach, want to Ca Na is 15 km away.
Travel lovers.
Read more: