Something you need to know to visit Ho Chi Minh Mausoleum in Hanoi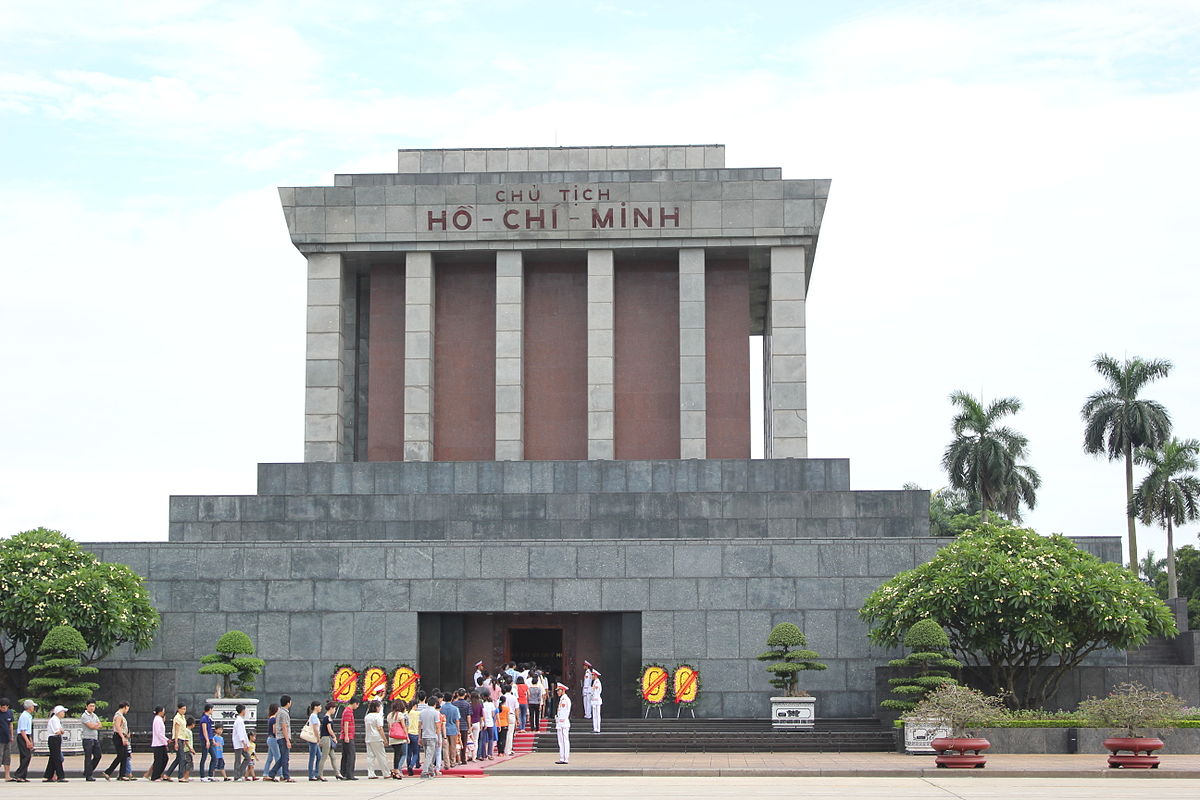 Famous for honoring the father of Vietnam: President Ho Chi Minh, Ho Chi Minh Mausoleum, which is an important historical site of Hanoi, is visited by an endless stream of tourists on their holidays in Vietnam.
Besides visiting the embalmed body of Uncle Ho, which is protected by a military honor guard standing at each corner of the bier in the cooled central hall of the Ho Chi Minh Mausoleum, seeing the special Vietnamese typical structure, you can also go to Ba Dinh Square in front of the Mausoleum, where Ho Chi Minh President declared the independence of Vietnam on the 2nd September, 1945; the nearby Ho Chi Minh Museum, which contains an account of the man's life as told in allegory and his personal effects, and the Presidential Palace, on whose grounds Ho Chi Minh lived after taking power to discover the very interesting stories about the great hero of Vietnam.
Best time to visit the Ho Chi Minh Mausoleum
Ho Chi Minh Mausoleum is only open on Tuesdays, Wednesdays, Thursdays, Saturdays and Sundays. Therefore, if you want to get inside, avoid Mondays and Fridays. During these months with the high temperature (from the beginning of April to the end of October), this mausoleum welcomes visitors from 7.30 AM to 10.30 AM on weekdays and from 7.30 AM to 11.00 AM on Saturdays, Sundays and special occasions. During these cold weather months (from the beginning of November to the end of March), it is open from 8.00 AM to 11.00 AM on weekdays and 8.00 AM to 11.30 AM on weekends and special occasions. Make sure to check before you go! If you travel by ho chi minh city to phnom penh by boat
The Mausoleum is closed once per year within a two-month stretch in autumn (from the 4th September to the 4th November) since Ho Chi Minh embalmed body is transferred to Russia for maintenance and touching-up.
If Ho Chi Minh's birthday (the 19th May), Vietnam's National Day (the 2nd September) and the first day of Lunar New Year coincide with Mondays or Fridays, there are still long queues of people paying their respects to the Vietnamese immortal saint.
Some tips to visit the Ho Chi Minh Mausoleum
You do not have to pay entrance fee to get into the Mausoleum but follow a set of strictly enforced regulations.
Get here as early as possible
As Ho Chi Minh Mausoleum is open in the morning, the queue to get into this building can be quite long, particularly at the weekend. If you do not want to wait for too long to explore all the fascinating points of Ho Chi Minh Complex, make sure to arrive here as early as possible. From everywhere around Hanoi Old Quarter, you can have no difficulty catching a USD $1-2 taxi ride to get to Ho Chi Minh Mausoleum.
Follow the staffs' instructions
Talking, smiling, putting hands in pockets, hurried movements, finger-pointing and taking pictures are strictly prohibited here. You do not have to hand in your camera but it has to be kept in a bag handed out by the staff. In addition, if you do not want to be singled out by the mausoleum guards, remember to keep quiet and walk slowly and steadily with the queue and get dressed respectfully. Short skirts or tank tops; shorts, singlets or sleeveless shirts are not advisable items, cover your shoulders and legs instead, even in Hanoi's temperature is pretty high.
Where to find a trip to the Ho Chi Minh Mausoleum
A trip to the Ho Chi Minh Mausoleum, which is a highlight of not only many locals' but also foreigners' visits to this capital city, can easily be included in any Hanoi city tours, arranged by Hanoi travel agencies or at your hotel reception and a popular part of Vietnam tour packages. Your trip to Hanoi cannot be perfect without a chance for a pilgrimage to Vietnamese honorable father.
See more:
Awesome Travel Experience | How To Choose Good Homestay in Sapa
Best Time to Visit Vietnam Beaches
Asia Travel Lover