Overnight in Ho Chi Minh City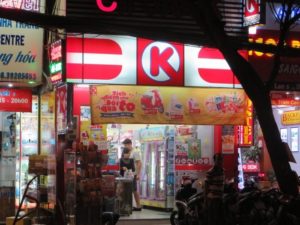 One of the must-do things when you visit Ho Chi Minh City is overnight. Just with a night wandering in this city, you will know why it is called the city that never sleeps. Night is long but Ho Chi Minh city always has enough spaces to serve your own tastes and hobbies, even the most difficult ones. You can read more: 
ho chi minh city to phnom penh by boat
Café 24h in Ho Chi Minh city
Coming to Ho Chi Minh city, travellers stay awake to enjoy dynamic life pace in every second. However, the place to stay awake, talk with friends, work or even just enjoy a cup of coffee is essential. A chain of café 24h was born to serve you. At night, the coffee shop is still open so those who don't want to go home can ask for a cup of coffee and wait for the sunrise. The café is always crowded, even when in the 4 or 5 am. So if you are visiting Ho Chi Minh city, why don't you enjoy overnight in this place with friends?
Cinemas
In the city, if you come back home before 9 pm, you must be those who don't like animation or the night life because there are a lot of entertaining activities in this city at night. Cinemas even increase the number of tickets at 1 am for those who don't want to go home early. These tickets are cheaper than normal and there is preferences so many youngsters like this. Besides, there is a lot of choices for you: watching in mini cinemas for family, watching on the terrace,…
If you interest, please follow mekong river cruise vietnam
Nguyen Hue walking street
Although the street has just been open for a couple of months but it attracts a lot of young people coming here to gather, enjoy the fresh air or take a selfie. Large space, beautiful view, luxurious street with impressive music performances make Nguyen Hue always crowded at night. Ho Chi Minh city's bustle and hustle atmosphere is all shown in this walking street. This is truly an ideal place for those who enjoy fresh air and comfort inside the busy city.
Convenience stores 24h
Convenience stores like Circle K, Shop & Go and Family Mark are no longer unfamiliar with students in Ho Chi Minh city. At daytime, you can come in these stores to be away from the sunlight, or study in groups, chat with friends in spacious air-conditioned rooms without disturbance. These stores can be found in every corners of Ho Chi Minh city. You just need to buy a sandwich or a water bottle to be here. A plus point is that staffs at convenience stores are very friendly, even if you do not buy anything.
Live music café Ver 2.0
If you are passionate on parties and want to immerse yourself in music, welcome to live music café Ver 2.0. In the past, Ho Chi Minh city people like the guitar sound and Acoustic coffee shops; now, they prefer Rock, cover bar and pub. In these places at night, you are free to sing, dance and enjoy the music like in a mini concert. Music songs are updated based on US/UK trends.
When the night comes, Ho Chi Minh city offers you interesting places to go, even you like a peaceful or a noisy one. So do you want to have an overnight in Ho Chi Minh City?
See more:
Asia Travel Lover