Highly recommended dishes in Danang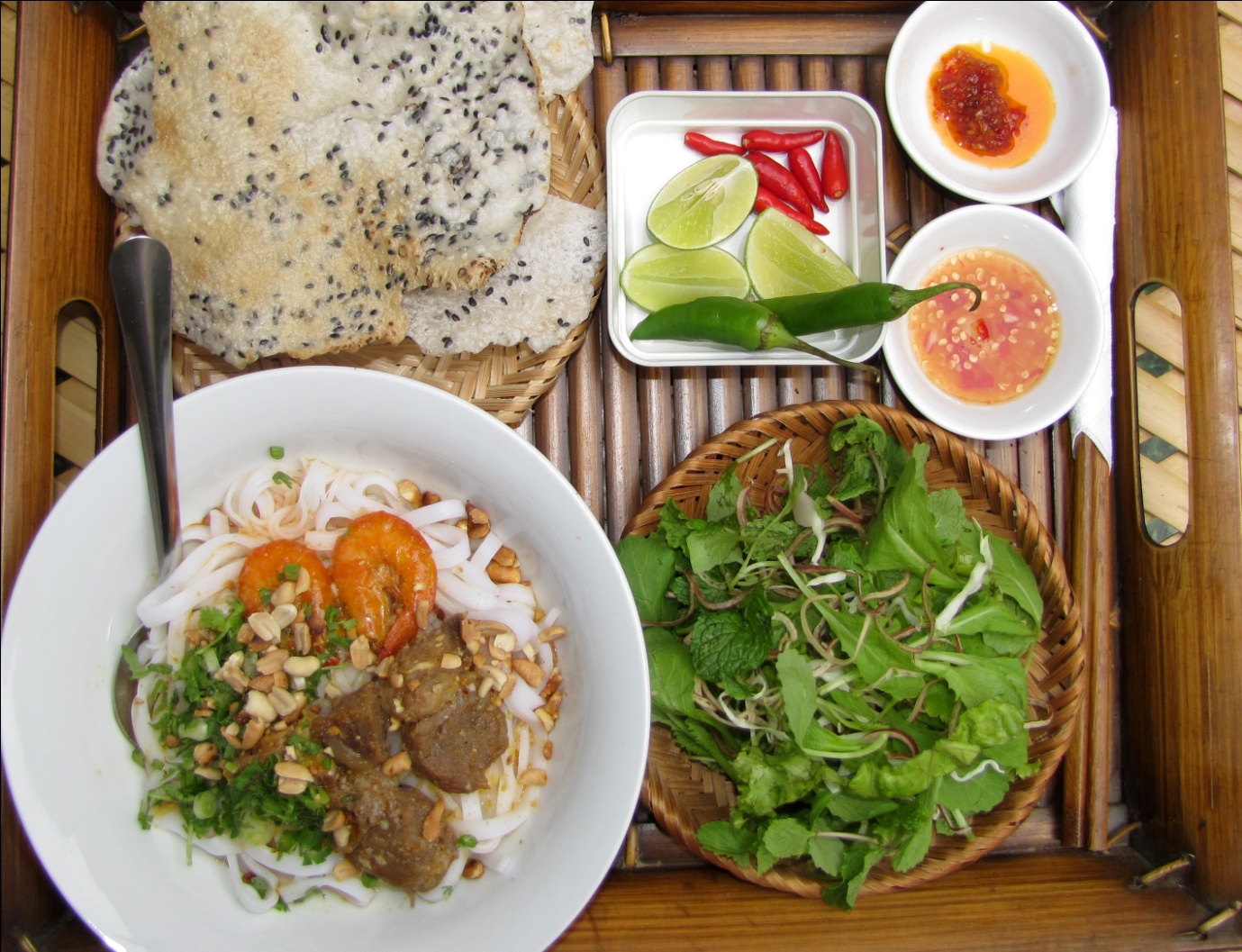 With impressive beaches, great moutains, amazing bridges and espcially exotic specialty foods, Danang promises you an unforgettable trip. If you are still having no idea of what to eat in Danang, let's see these highly recommended dishes on your trip to Danang. Enjoy dishes in Danang with:
Indochina travel agency
Banh Nam
Banh Nam, whose fillings are made from mix of ground pork, dried shrimp, green onion and wood ear and whose battle is made from rice flour, is a popular traditional Vietnamese savory cake in Central Vietnam. After the battle and fillings are carefully wrapped in banana leaves, it will be steamed until well-done. Normally, Banh Nam is usually served hot with dipping fish sauce. To be full, you should eat 4 sheets of Banh Nam, each of which is about 10 cm long.
Banh Loc
As long as your finger, Banh Loc is a tiny cake made from tapioca flour and pork, shrimp and wood ear. This cake is served hot while still being in banana leaves. How to eat Banh Loc? Let's use chopsticks to pick this cake up and dip it into the fish sauce dip. Once enjoying this chewy cake, you will want to eat more and more.
Banh Beo (Bloating Fern-shaped Cake)
What to eat after Banh Nam and Banh Loc? It should be Banh Beo. Made of rice flour battle, grounded meat, chopped shrimp and so on steamed in tiny bowl and topped with pork floss, ground dried shrimp and deep-fried shallot, Banh Beo is an awesome dish in Danang. A layer of oil of peanut, then the filling, fried shallot will be applied onto the steaming bowl of Bloating fern – shaped cake. How to eat Banh Beo? It is so simple! All you have to do is to pour stunning dipping fish sauce, which is made of fish sauce, chopped garlic, lemon, water and sugar, all creating sweet and spicy taste into a small bowl and use a small spoon to cut it into small pieces, touch it up and enjoy. centre vietnam tour
What is better than enjoying Banh Beo on these rainy days, feeling the fat taste of oil of peanut, fried shallot and tough taste of powder melting in your mouth, everything in harmony with special sauce? You can eat dozen of Banh Beo in a row in a few minutes. Let's try and enjoy it!
Quang Style Noodle
As Quang Style Noodle is a popular dish in Danang, wherever you go in Danang, you can find Quang Style Noodles. This kind of noodle soup can be served for any meals in a day from early morning to late afternoon. When being asked about what to eat in Danang, most locals will recommend you to have a bowl of Quang Style Noodles. Unlike other Vietnamese noodle soup kinds, where broth covers noodles, Quang Style Noodle has only enough broth to mix the noodle with toppings. Not only the quantity but also the quality of Quang noodle broth, which is cooked from turmeric powder and peanut oil makes this dish different from others. To make it fresh and comfortable to eat, assorted herbs are also served with this dish. There are many kinds of Quang Style Noodle for you to choose to meet your taste such as Quang Style Noodle with fish, chicken, egg, shrimp, frog, etc.
Cao Lau
It will be big miss if you do not eat Cao Lau, which is the soul of Hoian cuisine in the ancient town. The ash of a kind of tree in Hoian used to make special yellow color of the noodle is the highlight of this dish. Topped with shrimp, pork and local greens, this dish is served hot. With only enough sauce for you to mix all in a bowl, Cao Lau cannot be described as a noodle soup or a dried noodle dish.
Vietnamese Pancake
Unlike Vietnamese Pancake in Southern Vietnam, whose diameter is about 40 cm, the Central Style version is as small as an adult's hand. With yellow color from turmeric powder, this kind of crepe in Danang is very crispy and attractive. To enjoy, diners will roll pancake with some herbs with a leaf of green or rice paper and dip it into the dipping macerated fish sauce bowl. What awesome taste!
Now after having known what to eat in Danang, you should plan your trip to this must-visit city right away.
See more:
Experience trekking in Mai Chau
Vietnamese Crab noodlle- incredibly delicious bowl of crab noodle
Experience make sauce fish in Mui Ne
Asia Travel Lover