Where to go for pork brew in Saigon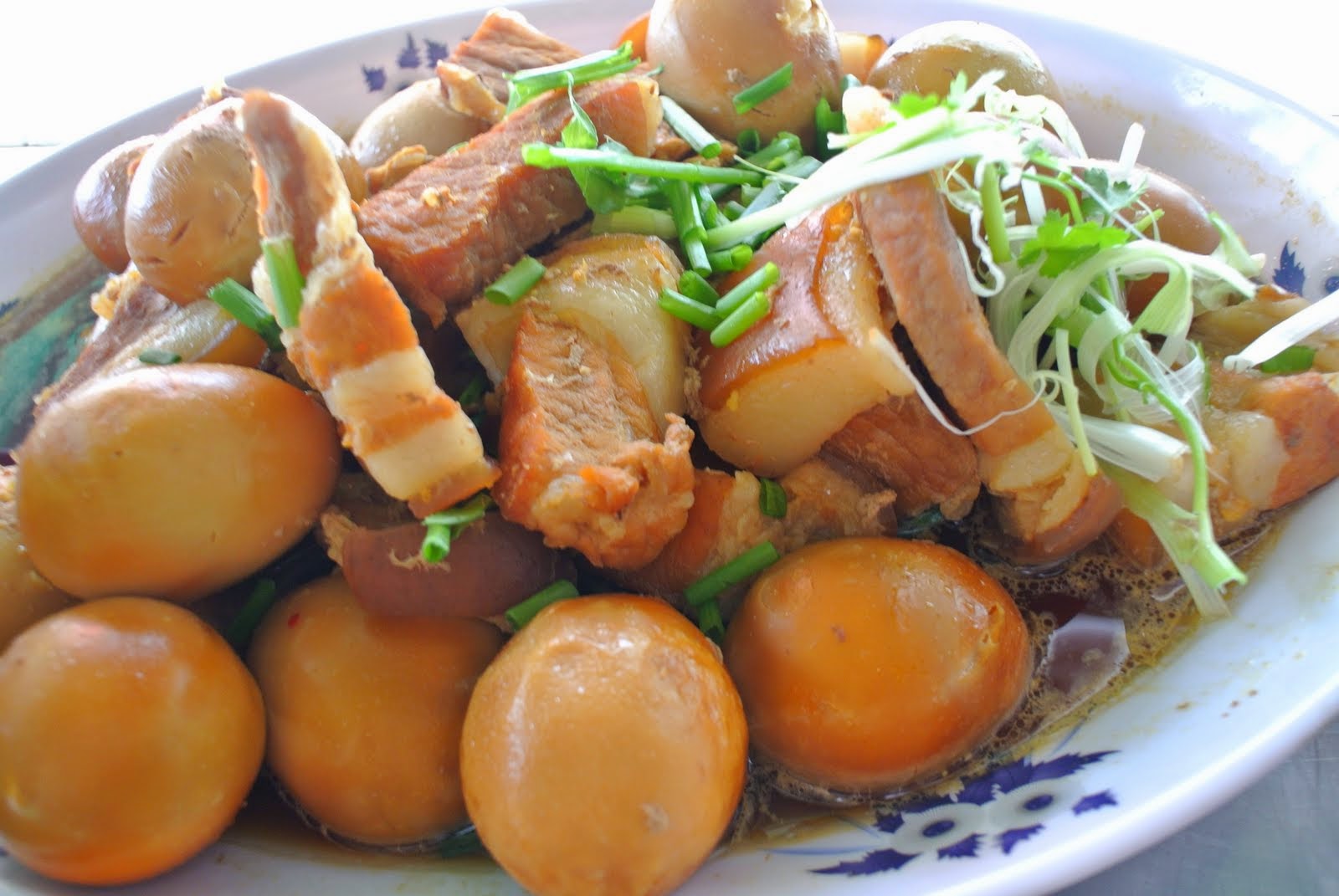 Not only being one of the most popular foods in the world, meat is also familiar with Vietnamese and Saigonese as well. Depending on hobbies, there are a vast of methods to cook meat and one of the most popular meat dishes in Saigon must be pork brew. south vietnam travel
What is it? Foreign cuisine or Vietnamese invention?
Thịt kho tàu is pork stew. Belly pork is marinated in nuoc mam and spices, then simmered in a pot with sugar and/or coconut juice until it has caramelized cover. This pot becomes a world of flavors – sweet, salty and meaty. Once being cooked, the belly pork is infused with the flavors at the pot and gradually tenderized by the heat. The pork is either chopped into big chunks or sliced thinly with a large layer of fat at the top.
The fat is so tender that it almost melts on the tongue like an ice-cube in the sun. Even some westerners can find the fat the highlight of the dish. Also soft and tender, compared to the fat, meat is chewy making for a satisfying contrast of textures. All sauce that has not already been absorbed into the meat will be poured over steamed rice – this is good enough to make an awesome meal in itself. Besides the meat, there is always another key ingredient in the stew dish. Depending on the region and the cook, you might have pork brew with duck eggs, quail eggs, tofu, sliced coconut or mushrooms, but boiled chicken eggs being the most common.
There are many hypotheses of the origins of this dish. Many believe that it has its roots in Chinese cuisine. Thit kho tau also can mean Chinese stew. Once upon hearing this name, many Vietnamese instinctively prefer to call the dish simply meat stew. Regardless of its origins, nowadays, pork brew is a national favorite – as common a sight as Pho on all streets in Vietnam. speed boat from ho chi minh to phnom penh
Where to eat? Everywhere!
The sugary sweetness of pork brew is a very characteristic of Southern Vietnamese cuisine. But the slow stewing and practicality of thit kho tau (the stew continues to acquire more flavor even being left for up to a week) points to the Northern Vietnam and China where the much colder, harsher climate needed food that can last. The influence of south and north on this dish perhaps explain why it is available everywhere! It is hard to visit a Vietnam's place where pork stew is not on the menu.
Pork brew is typically available at street side local lunch eateries. Look for the signs saying quan com binh dan, where low-price food is displayed in trays behind a glass screen, like school meals. Follow the crowds to find a good place: from 11:00am-12:30pm every weekday, you can find some places packed with workers on their lunch break. As always, look for a good mess and a lot of people, then you can likely find a good pork stew.
Pork stew is usually reasonable. With rice, a small soup and an iced tea, thit kho tau on the street should be between VND 15,000 – 30,000 ($0.65 – $1.30). It is so easy to order – just point pork brew out among numerous trays of dishes. However, as these are quick lunches for busy people and everything is pre-cooked, don't expect it to be hot! It is also possible to order hot pork stew on the menu in most restaurants, but obviously expect to pay more.
Locations
Hoang Yen Restaurant; No 148 Hai Ba Trung, District 1 – this restaurant will suffice for those who want to order pork brew off a menu, – they even have napkins and tablecloths!
Quan Com 17; 17 Mac Dinh Chi, District 1 – in contrast to the empty, tranquil atmosphere of the smart food chains either side of this local eating house, Quan Com 17 is always pleasantly packed with local food and guests, especially during the lunchtime rush.
Quan Com Minh Duc; No 35 Ton That Tung, District 1 – a big eating hall that inexplicably draws a badly-dressed crowd, however, their taste in food is spot-on!
See more:
Travel guide and experience visiting Hoi An
Top 5 attractive beaches in Vietnam during summer tourism season
Scams in Hanoi and how to avoid (part II)
Asia Travel Lover