Explore the Beauty of Mai Chau on a cycling tour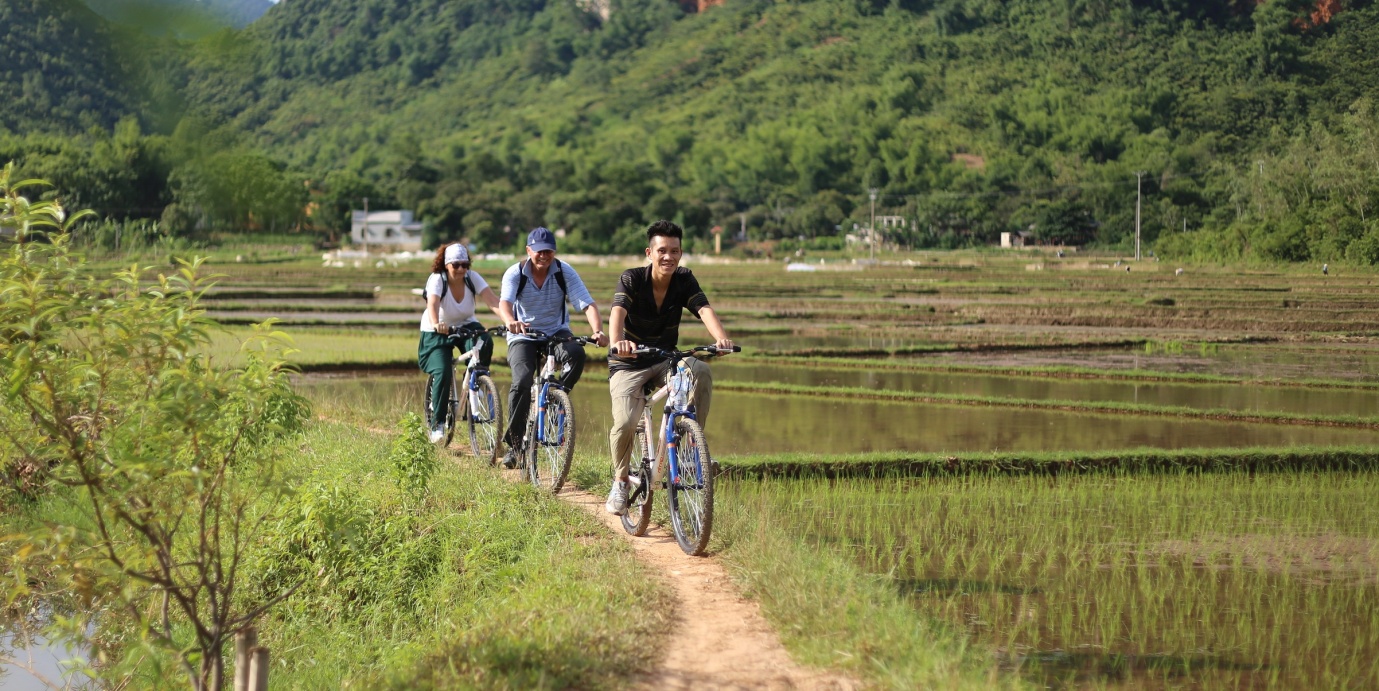 Just 160 kilometers from Hanoi, Mai Chau valley, which is a perfect destination to experience Vietnam's village life in a remote setting, offers a balance of physical activity in the form of cycling and cultural interest, set amidst some of the most stunning scenery in the northern Vietnam. From great single track paths, undulating rough jeep trails to some climbs which are rewarded with amazingly ultimate descents, mountain bikers will love this trip for the variety of trails. You can see more detail information: Indochina travel tours
The beauty of Mai Chau
Mai Chau is an exceptionally charming valley to both Vietnamese and international travelers, especially those wanting to enjoy cycling tours in Vietnam. Not only with the rustic beauty of the mountains, Mai Chau also seduces tourists by the citizens' hospitability. Going on a cycling trip in Mai Chau valley, you will have an unforgettable time discovering the unique culture, the wonderful scenery and awesome cuisine.
According to many experienced cyclists, Mai Chau is the most attractive when the rice is ripe, when the rice is flowering, the green rice tilts to the wind and the scene is fresh. The scene is dreaming, brilliant, golden rice fields twinkle in the sunshine when the rice has ripened. If visiting Mai Chau this season, you will get uniquely and vividly captivating photos along cycling Vietnam routes.
Expect to be warmly welcomed by locals
Over the past few years, the number of travelers to Mai Chau has increased making households gradually turn into a commercialization of tourism. They built stilt houses or renovated their houses, used new and more improved materials for their houses (such as cement floor footing, laminate flooring, etc). Modern equipments offer a comfortable staying condition to tourists coming there for a cycling tour. In spite of the improvements, it has not changed so much and still been the local people's root. Indochina travel agency
Not only the change in the material, they also change their morale. People in Ban Lac set up a lot of professional art groups to serve tourists who are interested in outdoor activities in Vietnam at a very reasonable price for hiring. Their performances are often beautiful songs about the Northwest Mountains and dances of daily work including: flower picking, harvesting, cultivating, etc.
Mai Chau's cuisine is really diverse such as steamed spring fish, hill country chicken, stem wine, pork, bamboo rice, etc. which are very cheap and tasty.
Though all of the products from scarves and brocade tops to other accessories are made by hand, the clothes of the people here are also diverse. Village women also make many beautiful souvenirs to sell to tourists when they are cycling in Vietnam such as lovely wallets, handbags, decorative wall hangings, scarves and Thai skirts.
Although having been through many years of tourism services, the flush of money and the need to make ends meet almost make no loss of the sincere and the nature of the mountainous people. Many tourists, especially foreign ones are also attracted by the way they welcome tourists in their Vietnam high-cultured outdoor activities.
Why don't you go on a cycling tour in Mai Chau right now?
See more:
Where to go in Vietnam in summer
Phu Quoc- a paradise pearl island in Vietnam
I Love Vietnam