Cooking class in Hoian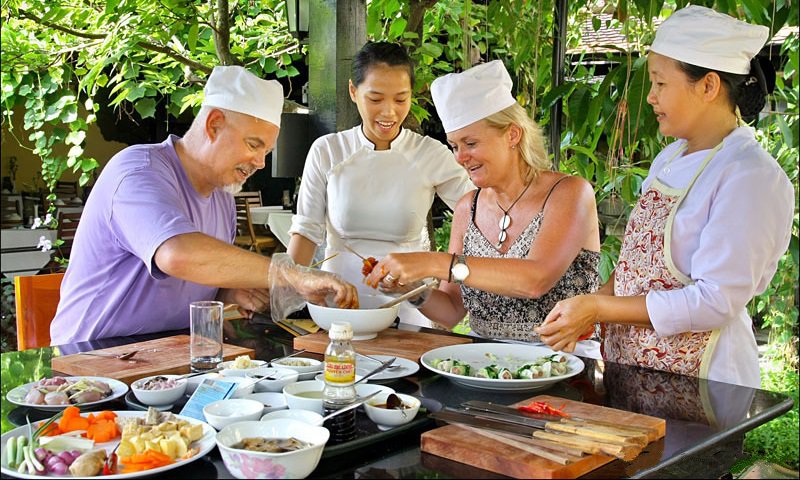 How to order Vietnamese coffee like a local? Where to enjoy the best cao lau in town? If these are the kinds of burning questions you have, Hoian is a mecca for food tours and cooking classes – and just like banh mi stalls, in Hoian, there are plenty of cooking classes to choose from.
In Hoian, there are dozens upon dozens of cooking classes available and depends on your preference, you should simply choose which one to enjoy. Some are drawn out into day-long affairs combined with a cycling or motorbiking or boating to fishing villages and herb gardens while others are held in restaurants in town, with an abridged crash course that take as little as an hour. Do you want a rural setting or a class in town? A home or a restaurant? Does it include a tour to local fresh market? Do you prefer doing all the prep yourself, really getting hands-on or demonstration style? Want to learn the popular dishes or something that requires a more dexterous culinary skills and adventurous palate? One certain thing is that you will not leave hungry.
There are several of the best cooking classes attached to famous restaurants. There is a cooking class down to an art at the Ms Vy Empire of eateries and programs at Vy's Market Restaurant & Cooking School and her longstanding Morning Glory Restaurant. Even if you like to highlight small enterprises, you cannot deny that this establishment is an organized, well-oiled machine and a solid choice. Besides the standard class (lasting two hours with four dishes for VND 550,000), also there are several advanced programs for more serious students. At-home-chefs who are not afraid to get hands-on and put their knife skills to good use will be attracted by the Advanced Master class. Buying the ingredients at the market and a tour through some street food kitchens are included in this half-day class (08:30-13:30). It costs VND 925,000 per person.
If you interest, please view: Halong Paradise cruise to get more information
For chefs or skilled amateurs, to kick it up a notch, Vy's Market Restaurant has Gourmet Class with Ms Lulu. This goes more into the nitty – gritty of Vietnamese nutrition, culture and food before tackling a few interesting dishes not usually on the cooking class circuit such as stuffed squid with pork and fried wontons with crab meat. It costs VND 990,000.
If you want a more homey experience, Green Bamboo, a small class taking place in Ms Van's own kitchen is what you cannot go wrong with. If you have kids, this great woman is exceptional.
See more:
Asia Travel Lover