Con Co Island looks to reap tourism gains from pristine looks, heroic past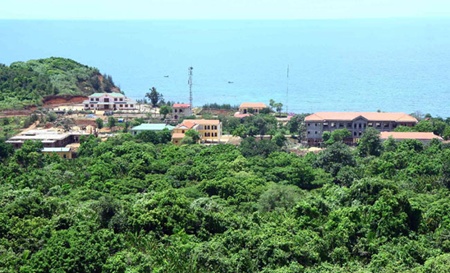 Con Co Island looks to reap tourism gains from pristine looks, heroic past
Sleeping beauty: Con Co Island is hoping to exploit its great ecotourism potential and attract a lot of visitors.
by Hoang Trung Hieu
At night, it looks like a floating city on a sea filled with light.
This is how Le Duc, a tourist, describes Con Co Island off the central province of Quang Tri which he recently visited.
"The island has two high places. The highest point has a lighthouse and has been named Hai Phong Hill, after Hai Phong City in the north, from the time of the war against the United States," Duc said.
"On the island, there are places named after places in the north, like Ha Noi battlefield, 'Nam Ha', 'Ha Tay' and 'Quang Ninh' zones," he added.
The island, measuring 2,200sq.m, is located about 30km from the coast and has great potential for tourism development. Primary forests cover about 74 per cent of the island, which has a variety of sandy beaches, coral reefs and igneous rocks formed from volcanic lava.
Le Quang Lanh, the island district People's Committee chairman, said Con Co remained clean and unspoiled by human activity and featured freshwater and strange plants that were endemic to the island.
"The sea around the island is home to numerous tropical water ecosystems, including about 113 coral species that were found to be in excellent condition," Lanh added.
Along with the coral systems are rich flora and fauna and hundreds of kinds of seafood of high value.
"With such a large potential and the proper investments, the island will become a tourist destination, a marine tourism centre that attracts local and foreign tourists and contributes significantly to the socio-economic development of Quang Tri Province," he remarked.
Besides diverse ecosystems, the island is now focusing on infrastructure development that will serve its residents, including a dock, a fishing port and logistics fisheries services.
"Roads are likewise being built to serve residents and tourists and give the island a spacious appearance," said Duc.
Con Co is home to 50 residents, and visiting fishermen usually take a rest on the island after a long voyage. Lanh said all offices and headquarters on the island were either newly constructed or repaired.
Worth preserving: With abundant seafood and unspoilt coral reefs, Con Co Island is now a Marine Conservation Area. — VNS Photos Ho Cau
"We've reclaimed more than one hectare of land, mostly planted to vegetables, fruits, maize and cassava. We're rearing 250 cows and goats and have built a new residential area for households," he added.
To date, all households, offices and units on the island have electricity and enough potable water. The youth who volunteered to build the island nearly 10 years ago have now settled down on it to engage in cattle raising, farming and fishing.
"Con Co is where our two children were born, so my husband and I have agreed to settle down here for the long term," Nguyen Thi Lan, one of the first inhabitants of the island, revealed.
Island district authorities are now implementing a project to turn Con Co into a tourist destination by highlighting its historical and traditional values, high-class resorts, coral reefs and other marine resources.
Formed from rare basalt, with unique natural landscapes and rare black coral reefs, Con Co is famous for beautiful and diverse marine and forest ecosystems, especially a three-storey forest ecosystem (a rare ecosystems of volcanic islands in Viet Nam), and its intact and diverse coral reefs.
"Moreover, it is conveniently positioned near national and international sea transport routes such as Hai Phong-HCM City-Singapore, Hai Phong-Manila, Hai Phong-Da Nang and Hai Phong-Vladivostok (Russia). It also belongs to a chain of famous historical landmarks, so developing Con Co for tourism is within our reach," said a tourist company representative.
Cao Tri Dung, director of Vitours Travel Company, said the island was an appealing tourist destination. "We're planning to bring more tourists to this island in the future as we have successfully done in Ly Son Island of Quang Ngai and Cham Island in Quang Nam," he added.
Duc said he had visited all remnants of the war against the US on the island, such as tunnel systems crisscrossing the island for more than 20km, a system of bunkers along the coast, and cannon sites.
"From the lighthouse, we can see that the island is like a town surrounded by blue sea and primitive forest. Once, I nearly lost my way in the forest, and was really impressed to see and touch many old trees. Three or four people must join hands to embrace a tree," he added.
Heroic island
Con Co has an extremely critical position for national defense.
During the anti-American war, when the 17th parallel divided the two parts of the country, the island was used as a base for the North so it saw many American bombing attacks causing significant casualties. It was awarded the title of Hero of the Armed Forces twice by the Government.
In June 2014, the Youth Union Central Committee in Ha Noi began to implement a project to develop five "islands of youth" till 2020, including Tran Island in Quang Ninh Province, Bach Long Vi (Hai Phong), Tho Chu (Kien Giang), Hon Chuoi (Ca Mau) and Con Co (Quang Tri).
The Con Co Marine Conservation Area, measuring 4,532 hectares, was established in February 2010. The island has beautiful and intact coral reefs with warm seas that are suitable for diving. — VNS
This entry passed through the Full-Text RSS service – if this is your content and you're reading it on someone else's site, please read the FAQ at fivefilters.org/content-only/faq.php#publishers.
Lastest news from Travel channel – VietNam News