5 reasons why you should try Vietnam cuisine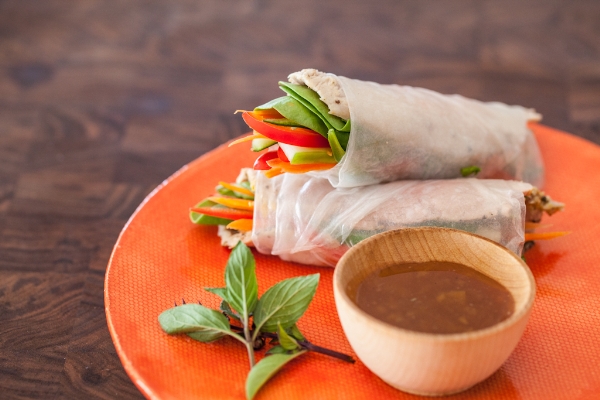 Vietnamese cuisine is gaining popularity in the world after years of having national dishes among the world's 100 best foods. Unlike Chinese food which can be fattening with overly strong flavor, Vietnamese cuisine is lighter with a big portion dedicated to fresh herbs and greens. Here are the 5 reasons why you should try Vietnamese cuisine, and love it! You can see:
private tour in Vietnam
Because the Vietnamese food you have eaten in your country is not authentic.
This is a no-brainer. Every country's cuisine that is brought overseas are adjusted and modified so that it will suit the taste of local people. The same thing happens to Vietnamese cuisine. And if you only get to eat our national food pho, it is a shame because Vietnamese cuisine is way more than just pho. We have cha ca la vong (an Old Quarter's signature fish dish), egg coffee, bun cha (grilled pork and noodle), crab soup, spring rolls, com tam (broken rice and rib dish), sticky rice, etc.
Because Vietnamese food is good for your health
Yes, you heard it. Forget the American diet. Our Vietnamese cuisine is super healthy for you because we use a wide variety of spices, fresh herbs, vegetables, lean meat, and fish. In fact, Vietnamese families find it hard to finish their meals without herbs and vegetables as side dishes. Our fresh spring rolls are made with fresh rice paper, fresh noodles, fresh carrots, fresh salad leaves, and fresh prawns. This is where you get your vitamins and minerals. A Vietnamese would also prefer water and green tea to sugary drinks. Without the use of milk and butter, traditional Vietnamese cuisine can surely help you lose weight. mekong river cruise luxury
Because you have not tasted the best banh mi (sandwich) in the world.
Do you know that Vietnamese banh mi (sandwich) is listed among the world's top 100 famous foods? In Hoi An, an ancient city in the middle of Vietnam, lies the world's most delicious banh mi sandwich in the world: banh mi Phuong. Trust us, Anthony Bourdain has eaten there and given it the 5 stars: crunchy, meaty, sweet, and herby, with a spicy kick.
Because Vietnamese cuisine is of multicultural influence.
You have properly heard of our history with China and France. After a thousand years of Chinese domination and French colonization, our cuisine is somewhat affected. Rice, fish sauce, char siu pork, dumplings are some of the few dishes that we have in common. And we did learn something from the best cuisine in the world (French): the previously mentioned banh mì is an example, or bo sot vang (similar to beef au vin) or coffee.
Because you are paying so much less money for what it actually is worth.
If you are in Vietnam and have a list of dishes that you must try, you will never have to think about budgeting for it. Budget your stomach, not your wallet, because Vietnamese food is so inexpensive. You might even get your breakfast, lunch, and dinner for only $3 USD. A bowl of hot and delicious pho costs about $1.5 USD, a banh mi stuffed full with meat and vegetable fillings is 1 dollar, a cup of coffee ranges from $0.5 to $1.25 USD, etc. Not to mention mouth-watering fresh exotic fruits that you will see carried by street vendors everywhere (but make sure to haggle a bit for the price).
We love our cuisine, that's for sure. But we love it even more if we get to introduce it to foreign friends around the world. To us, and many visitors who have tasted our foods, Vietnamese cuisine is truly phenomenal!
See more:
The best reasons to travel Sapa for you
Saigon's cuisine offers more than pho
cultural and pedagogical space for your children
Asia Travel Lover